On Wednesday, 11th August 2021, our very own Essendon Fields Airport turns 100!
We are so grateful to be surrounded by such an amazing community in Essendon Fields and even more to be in the midst of one of the world's oldest airports! We may only have been a part of the community since 2017, but we have been so welcomed by everyone that it feels like it's been a lifetime.
The Essendon Fields Airport was first approved by the Minister for Defence in 1921 which when the development of Melbourne's Essendon Aerodrome begun! And I guess you could say, the rest is history… literally!
Essendon Fields have meticulously put together a timeline of events if Essendon Fields Airport from 1921 – present. You can check it out here.
To celebrate this momentous occasion, Essendon Fields will be putting on a community day for the Centenary Day on the 9th of October from 10am – 3pm. This will include all of the businesses in Essendon Fields (yes, including us!), banding together and making it a day to remember. We're talking museum tours, aviation air shows, and of course, special cocktails at Mr McCracken! There will be plenty to do for the entire family to enjoy, including food trucks, games and plenty of prizes up for grabs!
Head over to Essendon Fields' Centenary Day page to check out all of the information and pencil it in to your diaries!
Essendon Fields respectfully acknowledges the traditional custodians of its land: the Wurundjeri Woi-wurrung people of the Kulin Nation, their spirits, ancestors, elders and community members past and present.
THEN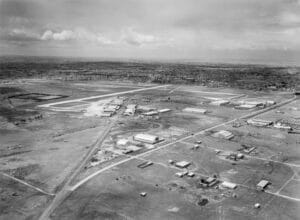 Image credit: Civil Aviation Historical Society
NOW